Myla Knoble

Characteristics

Race

Human

Gender

Female

Age

18

Hair Color

Dark Blue

Eye Color

Green

Professional Status

Affiliation
Guild Mark Location

Back

Occupation

Mage

Team
Base of Operations

Mermaid Heel Building

Personal Status

Status

Active

Magic

Magic

Iron God Slayer
Myla Knoble is a S class mage in Mermaid Heel and apart of Team Mermaid Heel in the Grand Magic Games.
Appearance
Edit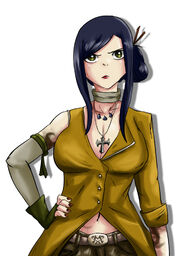 Myla is a tall woman with a curvy body, having an hour glass figure and large chest. She has long dark blue hair that she keeps up in a side bun held by two pins. Her bangs are swept to the right side of her face, and two long locks of hand frame her face, reaching past her shoulders. She wears a light layer of makeup, with pink lipstick and red-orange nail polish. She has large round green eyes, and a pale complexion. 
Her clothes include a yellow trench coat missing its right sleeve, while the other it rolled up to the mid forearm. The coat guts off above the navel, but trickles down the side and back in a tail coat style just around her mid thigh. Beneath the coat, she wears a thin sleeveless bra that is hardly ever seen (as she's never without her coat). She wears a pair of brown shorts and a belt with the Mermaid Heel symbol within the buckle. On her right arm, she wears a long finger glove that reaches almost to her shoulder. Just where her clothes end, on each arm, she has dark marks creeping up her skin. 
Her guild mark is hidden on her back, and covers the majority of the skin on her back. 
Personality
Edit
Myla is a rather cold and stoic person. She's the silently designated leader of Team Mermaid Heel, as she's a wise leader and respected by all her guild mates. While she is intelligent, she can behave rashly when angry and become ignorant to what's best in a situation.