Florence Bellini
Alias

Deadly Sin of Lust

Characteristics

Race

Demon
Human (former)

Gender

Female

Age

18

Hair Color

Blue

Eye Color

Red

Professional Status

Previous Affiliation
Previous Occupation

Mercenary Mage

Previous Partner(s)

Eleanor

Personal Status

Status

Active

Relative(s)

Unnamed Father

Magic

Magic
Debut

Vol. IV - Chapter 1
Florence Bellini is a former member of the Seven Deadly Sins. She is currently working with Basil Mace.  
Appearance
Edit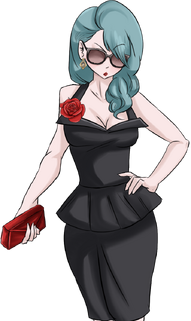 Florence is a young, attractive woman. She has light blue hair and pale skin. She has a slim figure, but still possesses curves (though not as exaggerated as many other characters). Her lips are rather small, and her eyes have long and plentiful lashes. Her eyes were originally blue, but were turned red upon her transformation into a demon. She always wears makeup, often including dark red lipstick and purple eye shadow.
Her attire is always formal, wearing neat and formal dresses with nice jewelry with heels. Many times, she will also wear a pair of shades, especially when working outside. She prefers to never be seen in the same dress, so most of her dresses are fabricated quickly then abandoned after the end of the day. It's a bizarre and wasteful habit, but Florence somehow gets away with it despite having low funds.
Personality
Edit
Florence speaks and behaves quite formally, showing the best etiquette and expecting it from those around her. Nonetheless, she has her moments of both pure unstable madness and sincere affection. Her relationship with Eleanor greatly shows her affectionate side. While Eleanor is at times her polar opposite, being lazy, reckless, unladylike, and childish, they still maintain and healthy and happy friendship. While Florence will often behave condescending towards others in their behavior, she rarely corrects Eleanor's and does so patiently.
Magic and Ablilties
Edit
Light Storm: