Cali Celstial

Characteristics

Race

Human

Gender

Female

Age

19

Hair Color

Blonde

Eye Color

Light Blue

Professional Status

Affiliation
Guild Mark Location

Neck

Occupation

Mage

Team
Base of Operations

Personal Status

Status

Active

Relative(s)

Unnamed Deceased Parents

Magic

Magic

Heavenly Body
Cali Celestial is a mage in the guild Redmoon Shield and is apart of Team Redmoon Shield in the Grand Magic Games. She is created by Wattpad user AphmauLoverD.
Appearance
Edit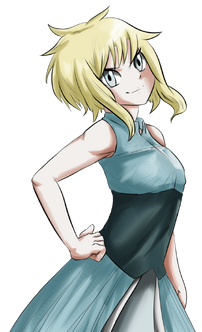 Cali is a rather small girl, despite her age. She's slim and flat chested, lacking in a curvy body type, causing her a significant amount of annoyance. Her hair is short in the back, while long in the front, with lots of uneven locks since it's cut by herself.Her guild mark in on her neck, but is often hidden by her hair. She has bright blue eyes, that are a very light blue and at times appear white and pale skin.
Cali wears a sleeveless light blue dress with a darker blue corset around her waist. She wears a pair of boots and stockings beneath the dress.
Personality
Edit
Cali is very childish, in fact the most childish of her younger friends. Being easily excited, she is prone to acting juvenile--for example, jumping up and down and bumping into absolutely everything--and could care less how people think of her. While many people are annoyed by her happy-go-lucky behavior and personality, she refuses to let them stop her fun.
Having had a difficult childhood as an orphan, she lives on the intent of spending life at its fullest.She joined Redmoon Shield and is protective and proud of the guild and its members.